https://www.trunews.com/stream/bojo-wins-queen-elizabeth-ii-grants-prorogation-of-parliament-to-ensure-brexit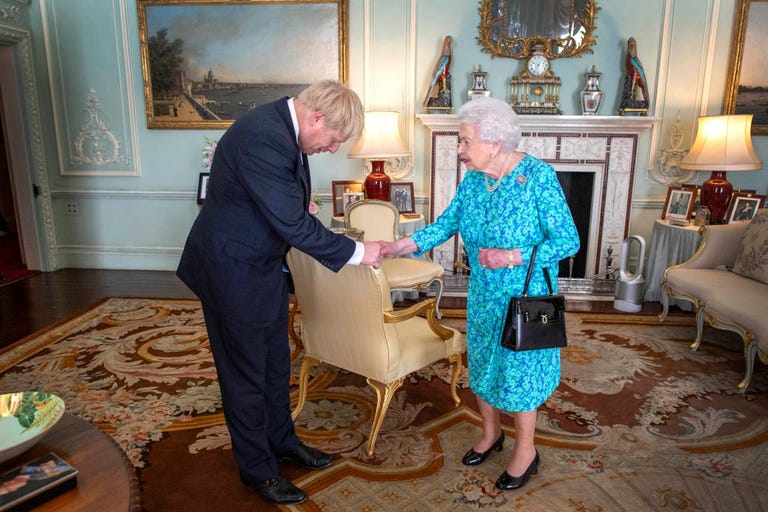 Next up: Labor Leader Jeremy Corbyn's no-confidence motion and a potential general election in November.
Queen Elizabeth II has agreed to let Prime Minister Boris Johnson shut down Parliament for an extra week in a bid to ensure Brexit on October 31st.
The Parliament will return from summer recess on Tuesday, and were scheduled to work until Sept. 12, when the annual three-week party congress break occurs. However, at Johnson's request, the queen has agreed to extend that break by one additional week to Oct. 14th.
The monarch held a privy council at her country estate in Balmoral this morning with Commons Leader Jacob Rees-Mogg—who also serves as Lord President of the Privy Council—House of Lords Leader Baroness Natalie Evans, and House of Commons Chief Whip Mark Spencer. Following that meeting, the queen issued the following "order of council," which has the effect of UK law by royal prerogative:
"Order proroguing Parliament no earlier than Monday 9th September and no later than Thursday 12th September 2019 to Monday 14th October 2019, and directing the Lord High Chancellor of Great Britain to prepare a commission accordingly."
Proroguing Parliament means discontinuing the current legislative session without dissolving the legislative body. This typically happens for a short time each year prior to the Queen's Speech, which starts the new legislative session. However, under royal prerogative, the UK monarch has the absolute power to prorogue Parliament for any length of time, ruling without it, during that time.
While prorogued, MPs lose their rights and privileges and revert to common subjects of the queen. For Johnson's purposes, this prevents Remain MPs from pushing any bills that can prevent a no-deal Brexit.
In a letter, the prime minister clearly spelled out his intentions:
"I hope that you had an enjoyable and productive summer recess, with the opportunity for some rest ahead of the return of the House.
"I wanted to take this opportunity to update you on the Government's plans for its business in Parliament.
"As you know, for some time parliamentary business has been sparse.
"The current session has lasted more than 340 days and needs to be brought to a close—in almost 400 years only the 2010-12 session comes close, at 250 days.
"Bills have been introduced, which, while worthy in their own right, have at times seemed more about filling time in both the Commons and the Lords, while key Brexit legislation has been held back to ensure it could still be considered for carry-over into a second session.
This cannot continue.
"I therefore intend to bring forward a new bold and ambitious domestic legislative agenda for the renewal of our country after Brexit.
"There will be a significant Brexit legislative program to get through but that should be no excuse for a lack of ambition!
"We will help the NHS, fight violent crime, invest in infrastructure and science and cut the cost of living.
"This morning I spoke to Her Majesty The Queen to request an end to the current parliamentary session in the second sitting week in September, before commencing the second session of this Parliament with a Queen's speech on Monday 14 October.
"A central feature of the legislative program will be the Government's number one legislative priority, if a new deal is forthcoming at EU Council, to introduce a Withdrawal Agreement Bill and move at pace to secure its passage before 31 October.
"I fully recognize that the debate on the Queen's Speech will be an opportunity for Members of Parliament to express their view on this Government's legislative agenda and its approach to, and the result of, the European Council on 17-18 October.
"It is right that you should have the chance to do so, in a clear and unambiguous manner.
"I also believe it is vitally important that the key votes associated with the Queen's Speech and any deal with the EU fall at a time when parliamentarians are best placed to judge the Government's program.
"Parliament will have the opportunity to debate the Government's overall program, and approach to Brexit, in the run up to EU Council, and then vote on this on 21 and 22 October, once we know the outcome of the Council.
"Should I succeed in agreeing a deal with the EU, Parliament will then have the opportunity to pass the Bill required for ratification of the deal ahead of 31 October.
"Finally, I want to reiterate to colleagues that these weeks leading up to the European Council on 17/18 October are vitally important for the sake of my negotiations with the EU.
"Member States are watching what Parliament does with great interest and it is only by showing unity and resolve that we stand a chance of securing a new deal that can be passed by Parliament.
"In the meantime, the Government will take the responsible approach of continuing its preparations for leaving the EU, with or without a deal.
"The Leader of the Commons will update the House in the normal fashion with regard to business for the final week.
"For now, I can confirm that on Monday 9 September both Houses will debate the motions on the first reports relating to the Northern Ireland (Executive Formation etc) Act 2019 (NIEFA).
"Following these debates we will begin preparation to end the Parliamentary session ahead of a Queen's Speech.
"The Business Managers in both Houses will shortly engage with their opposite numbers, and MPs more widely, on plans for passing a deal should one be forthcoming.
"Decisions will also need to be taken about carrying over some of the bills currently before the House, and we will look to work constructively with the Opposition on this front.
"If agreement cannot be reached we will look to reintroduce the bills in the next session, and details on this will be set out in the Queen's Speech.
"As always my door is open to all colleagues should you wish to discuss this or any other matter."
The prime minister now likely faces a no-confidence vote led by Opposition Leader Jeremy Corbyn. If it were to succeed, senior Downing Street officials have told The Sun newspaper that Mr. Johnson will not resign, but rather would call for a general election to be held shortly after October 31st.
Reaction among Remainers was immediate and forceful. Protesters have taken up shop outside the Palace of Westminster to express their outrage. Corbyn has also addressed the issue, demanding an audience with Queen Elizabeth II to protest the decision. In a statement outside the Palace of Westminster, he added:
"We will work will all MPs to take steps to ensure that the prorogation doesn't happen, or move very quickly to a vote of no confidence in the government. If it is impossible to prevent prorogation it is going to be difficult for people like myself to keep confidence in the government.
"I am appalled at the recklessness of Johnson's government. It's a threat to our democracy."
He later told the BBC the opposition will attempt to launch legislation to prevent not just the prorogation, but a no-deal Brexit. He added that if those attempts fail, a confidence motion would follow.
Speaker of the House John Bercow, who was a known Remainer, despite centuries of convention that the office holder should no longer take political positions, also expressed his fury at the prorogation order. He said it was "blindingly obvious" the move was meant to "stop Parliament debating Brexit and performing its duty."
Remainer Tories Philip Hammond, the former Chancellor of the Exchequer, and former environment minister Dominic Grieve also expressed their dismay, calling the prorogation "undemocratic" and "outrageous." And Scottish Tory Leader Ruth Davidson resigned in protest over the move—although party insiders said the openly lesbian politician had been considering a resignation for several weeks due to the birth of her first child last year and the new demands motherhood have created for her.
But for some say Johnson's moves haven't quite gone far enough. A number of Brexiteers are concerned the prime minister is only interested in scrapping the much-hated Irish Backstop, sharing their concerns for many other parts of Theresa May's negotiated withdrawal agreement with the EU.
They have argued that failing to scrap the whole agreement and starting from scratch with the EU will still be a disaster for the UK. Brexit Party Leader Nigel Farage went so far as to say failing to do so would be the political end of Johnson as his party would challenge the Tories for "every seat up and down the country."