Melissa Melton The Daily Sheeple September 24th, 2014 –
Following a teacher "sick out" that shut down two Denver area high schools, hundreds of students walked out of their classrooms in protest Tuesday over a school board proposal to supposedly support "patriotism" and "respect for authority" but "downplay civil disobedience" in their history curriculum. Via Fox News: The school board proposal that triggered the walkouts in Jefferson County calls of instructional materials that present positive aspects of the nation and its heritage. It would establish a committee to regularly review texts and course plans, starting with Advanced Placement history, to make sure materials "promote citizenship, patriotism, essentials and benefits of the free-market system, respect for authority and respect for individual rights" and don't "encourage or condone civil disorder, social strike or disregard of the law." Students organized the mass protest via social media. Some carried signs that read, "History wasn't meant to be hidden" and "You can't change history."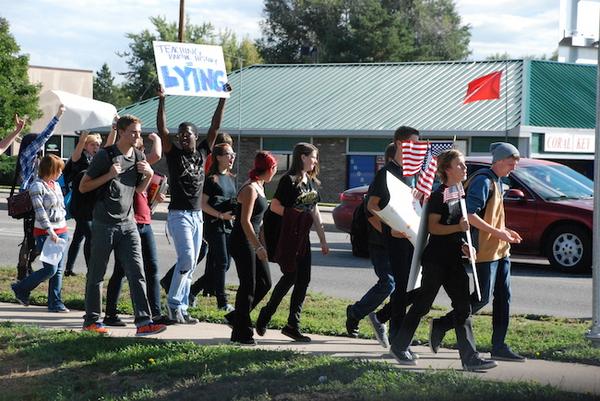 More than 300 Arvada West students protesting school board actions. Students organized it on Facebook. #edcolo
Fox quoted one 17-year-old student from Arvada, Colorado who said, "I don't think my education should be censored. We should be able to know what happened in our past."
Good for them! At least they're saying something. At least these students and teachers aren't just blindly bowing to a system that sounds like it came straight out of a George Orwell novel.
Is this how America plans to finally brainwash it's youth into total submissiveness?
For a long time, the school system in this country has been doing everything imaginable to downplay and discourage free, critical thinking…but now the nation's schools are going to openly edit history by essentially omitting the acts of civil disobedience America was, in so many ways, founded upon?
How long until the U.S. is designing all the lessons plans directly from those out of Communist China or North Korea?
As a public school student who later went on to complete multiple college degrees, I remember I never once ever heard anything throughout all my years of education about the fact that President Roosevelt signed an executive order allowing our government to literally intern over 125,000 Japanese Americans into camps during World War II for the "crime" of being Japanese. This is despite having taken a class on history in college that involved a special unit on World War II! I still was never told that our government forced Japanese Americans into camps.
If I had not done my own research, and if instead I deferred all of my knowledge to only what I received in school, I guess I may never have even known that our government could be capable of such a thing…something many Americans today seem to blindly believe regardless of the fact that it has already happened before.
Can you imagine what is going to become of school children — our nation's future — a few decades from now after schools have completely erased civil disobedience from the history books?
"He who controls the past controls the future. He who controls the present controls the past."
― George Orwell, 1984
Melissa Melton The Daily Sheeple September 24th, 2014 – See more at: http://www.thedailysheeple.com/students-protest-school-reeducation-policies-rewriting-u-s-history-to-downplay-civil-disobendience_092014#sthash.N2oLfLzf.dpuf